The laboratories were the backbone of the COSMIC project. Across the two-year span, they brought together trainers, students, the MemoRekall team and the COSMIC coordinators. They were led by Clarisse Bardiot who was accompanied by Alexandre Michaan and Mei Menassel, in cooperation with the FFEC and FEDEC teams, in particular Sarah Weber, as well as the host-school. They deployed in the methodological context of research-action. Each lab had a specific objective, from the discovery of MemoRekall to the realization of pedagogical scenarios on precise themes. Beyond the question of the use of a new digital application, MemoRekall is above all a tool for writing. Therefore, the labs were a time and a place to learn to write with MemoRekall, to interrogate the given resource and also one's own practice of circus education. Within this context, a set of pedagogical and digital innovations were able to emerge.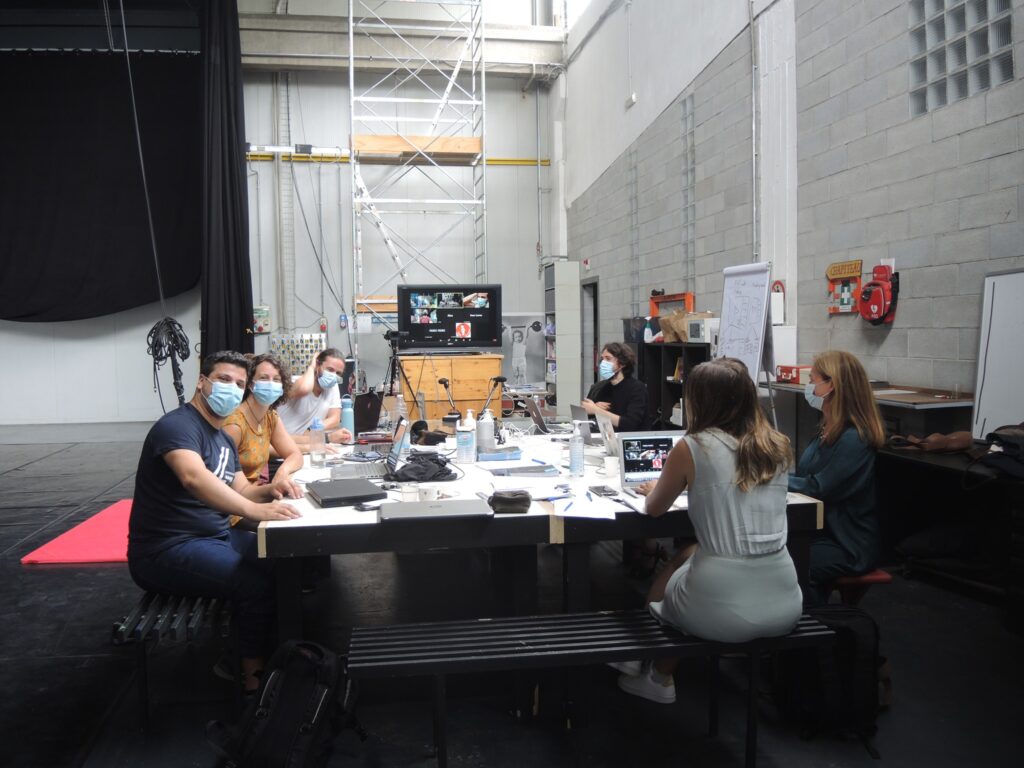 Examples of pedagogical capsules
COSMIC allowed for the development of a "Teaching and learning toolkit" which is available for free for circus school teachers who wish to use MemoRekall in their lessons. For more info, we invite you to consult the booklet.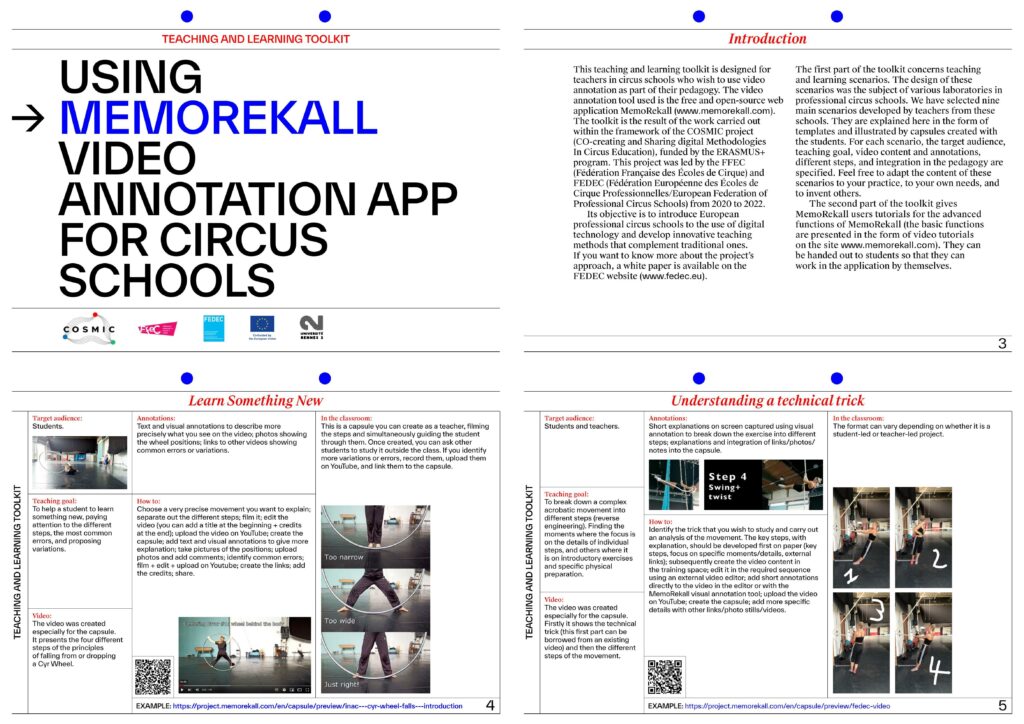 In this first capsule, we find a proposition for a pedagogical resource for learning a specific technique. Fabio Pinna, a circus arts educator, has prepared a very complete capsule on the Cyr wheel. The main video is divided into different steps to learn the technique which grow in complexity. He has complemented the video with explications about what is happening on the screen, videos of possible variations and errors that often occur, and photos that show critical parts in detail.
Cyr Wheel – Principles of falling and dropping from Fabio Pinna on MemoRekall.
In this second capsule we take apart an acrobatics technique. We start by seeing the technique in the context of a performance, then we see it again in slow motion with the different steps which are shown by annotations. Next, we are shown several exercises to practice which are augmented with photos and textual explications. We have used MemoRekall's video speed functionality to show the technique in detail.
Corde from Fabio Pinna on MemoRekall.
In this third capsule entitled Injury management and prevention, we see a set of exercises to do in order to make sure that our body is ready to work in this context without the risk of hurting oneself. Each exercise is shown from one angle in the main video and is accompanied by an annotation that leads to another video showing the same exercise from another angle. Pinna also offers textual annotations explaining which aspect is being worked and why.
Injury Management and Prevention from Fabio Pinna on MemoRekall.
In this last example, we have a capsule that explains how to use the "circus reading" methodology of Franziska Trapp that allows us to study the results of a creative process. We can learn the method, and learn how to apply it in order to feed one's own creativity. The long format main video is augmented by a diverse set of annotations that allow an even deeper understanding of the proposed information.
Reading Circus Methodology from Sofya Polyakova on MemoRekall.
CIRCLE
Thanks to this project, MemoRekall has rooted itself in the world of contemporary circus in Europe. For example, MemoRekall was used for FEDEC's flagship project CIRCLE to document the performances created by circus schools.